"If you make your bed every morning, you will have accomplished the first task of the day. It will give you a small sense of pride, and it will encourage you to do another task, and another, and another…. If, by any chance, you have a miserable day, you will come home to a bed that's made– that you made. And a made bed gives you encouragement that tomorrow will be better."
–Admiral William Mcraven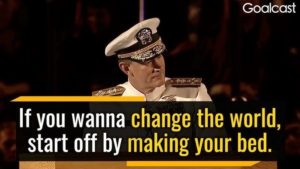 What's Happening this month...
From A Day to a week to a month
It all began on a single day in New York City where thousands of women came together to march for better labor laws and condition and the right to vote.
This Idea of a march spread from New York City all the way to Europe. This gathering of women marching for their rights became known as International Womens Day,
From this day it because a month long celebration of women's contributions to history and our society. This year like every other we celebrate women like Ruth Gader Ginsburg, Harriet Tubman,
Eleanor Roosevelt, Mya Angelou, Sally Ride, Maire Curie, Hedy Lamarr, Kamala Harris and the list goes on.
– Ms. Shelby Wright
3 Tips for middle school parents
Go to school Meetings and events. Attending assemblies, meeting and other activities is a good way to become familiar with your child's school community. All information for these event are emailed to both parents and students.
2. Talk to your child about school. Ask specific questions to draw out your child. Ask "How do you think you did on the math test?" What was the most interesting thing you learnt in math?" More about having conversations at school.
3. Give your child a quite place to study and do homework. Find an area in your home that is free of distractions where your middle schooler can concentrate on homework. Be available to help if your child has a question.